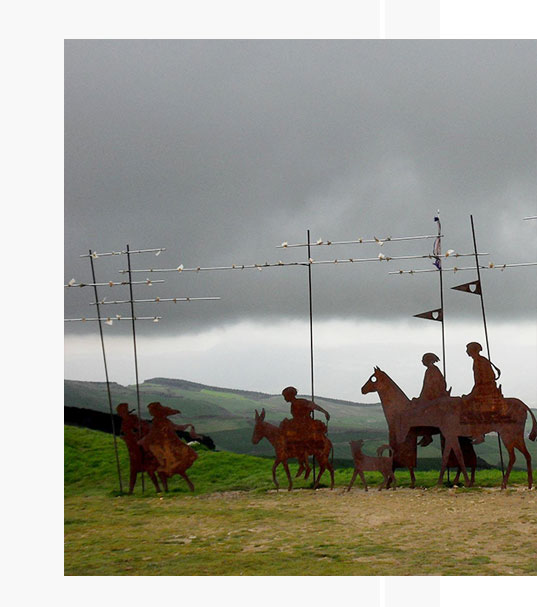 OBANOS MYSTERY
After traveling the Camino de Santiago and feeling her religious vocation, Princess Felicia, won over by the fervor of the pilgrims and the miracles from heaven, decided to burn her life in silence, escaping from her court, her lineage and her wealth, in humble service of our Lord.
She established her residence in the manor of Amocain, in the Egües valley, where she concealed her condition, hid her rank and lived calm and deified, until she was discovered by Guillermo, her brother, brave and quarrelsome, who tried to rescue her for the house's brick. and the illusions of the world. It was all in vain. He reminded her of the honor of her lineage, the dreams her parents had weaved about her, her arranged marriage.
She clung to the call of heaven and the demands of a supernatural vocation. An authentic combat between human love and divine love. William, drunk with vanity, lost his temper in rage. Felicia reiterated her resolution to leave, lost in silence and humility. Guillermo, alienated, killed Felicia, consecrated innocent.
Heaven made Felicia's tomb blossom in prodigies and turned it into a goal of devotion in Labiano, where it arrived by miraculous paths.
The tomb of Santa Felicia was fixed in Labiano (Aranguren Valley), while her brother Guillén also achieved sainthood after making a pilgrimage to Compostela and mourning his crime for the rest of his life in the hermitage of Arnotegui, where he consoled the pilgrims of the Camino de Santiago and helped the poor, and where his remains are still venerated today.